Learn More About Us!
ashbury BLOOM• is a Canadian company based out of Mount Hope, Ontario! We are an artisan producer of natural, sustainable and handcrafted bath, body and home products that are good for your body and the environment. We believe that our products should create an experience that will enrich your daily routine and enhance your quality of life by promoting health, wellness and self-care. Our vision is to support our customers and their families' transition to natural products that smell good, look good and are effective as we believe in the link between wellness and nature.
Our journey to create natural bath, body and home products started after our founders' life-changing experience of losing a family member to cancer at an early age. Since then, we developed a strong desire to focus on developing natural products, promoting healthy consumer choices and providing support to different cancer-research initiatives and people who are faced with fighting cancer. We wanted to create natural products with ingredients that can be found in your kitchen, that are simple, clean and chemical-free. Our ingredients are sourced from some of the herbs we grow, local farmers and suppliers. You can learn more about us and follow our journey through our Instagram page as well!
How ashbury BLOOM Products are Made & Wholesale Program
Our team handcrafts all of our products in small batches using only the finest natural plant-based sustainable ingredients, essential oils, herbs and botanicals. Every product is individually handcrafted and packaged with detailed care and attention. We formulate our products with premium oils like olive oil, coconut oil, and shea butter making them moisturizing and gentle. Our products are gluten-free, vegan, cruelty-free, paraben and phthalate-free and made without any harsh chemical preservatives.
We love connecting with retail owners who want to bring our natural line of products to their retail space – click here to learn more about our Wholesale program.
Being passionate isn't just about knowing, it's also about feeling. We feel passionate about the quality and the benefits that our products provide. We hope you enjoy our products as much as we enjoy creating them!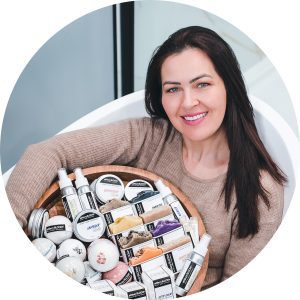 There is nothing more rewarding than following your dreams of creating something that will help others achieve their goal of living a healthier lifestyle.
– Vira